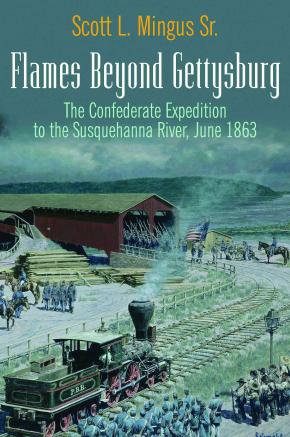 Flames Beyond Gettysburg:
The Confederate Expedition to the Susquehanna River, June 1863
is a nonfiction historical book about a significant expedition / raid by a mixed force of Confederate infantry, artillery, and cavalry during the 1863 Gettysburg Campaign. Newly promoted Brig. Gen. John B. Gordon led some 2.000 Southern soldiers on a mission to seize a vital bridge crossing over the Susquehanna River between Wrightsville and Columbia, Pennsylvania, which would allow passage by the rest of Maj. Gen. Jubal A. Early's division into Lancaster County. Secondary goals included the capture and ransom of prosperous York, Pa., and the destruction of important railroad bridges and the critical Hanover Junction rail yard. Along the way, Gordon's men become the first Confederates to occupy Gettysburg the week before the Battle of Gettysburg.

"A readable and fascinating narrative that finally fills in the large gap in Gettysburg historiography" - Eric J. Wittenberg, Ohio Civil War author

"Clearly written, scrupulously edited, and well-organized" - Tom Ryan, The Washington Times

"This book will be the standard work on this little studied and appreciated facet of the Gettysburg Campaign" - J. David Petruzzi, Pennsylvania Civil War author

"This is one well researched book and very enjoyable to read" - Edward Herzog, Minnesota Civil War historian
Coming soon from Savas Beatie!

( or signed from scottmingus@yahoo.com)

$18.95, paperback
ISBN 9781611210729
The cover art, Columbia Bridge Burning by Bradley Schmehl, is used under license. Maps are by cartographer Steve Stanley, with driving tour photographs by Thomas M. Mingus and illustrations by Zac Bretz. One chapter was co-written with Professor Scott L. Mingus, Jr.